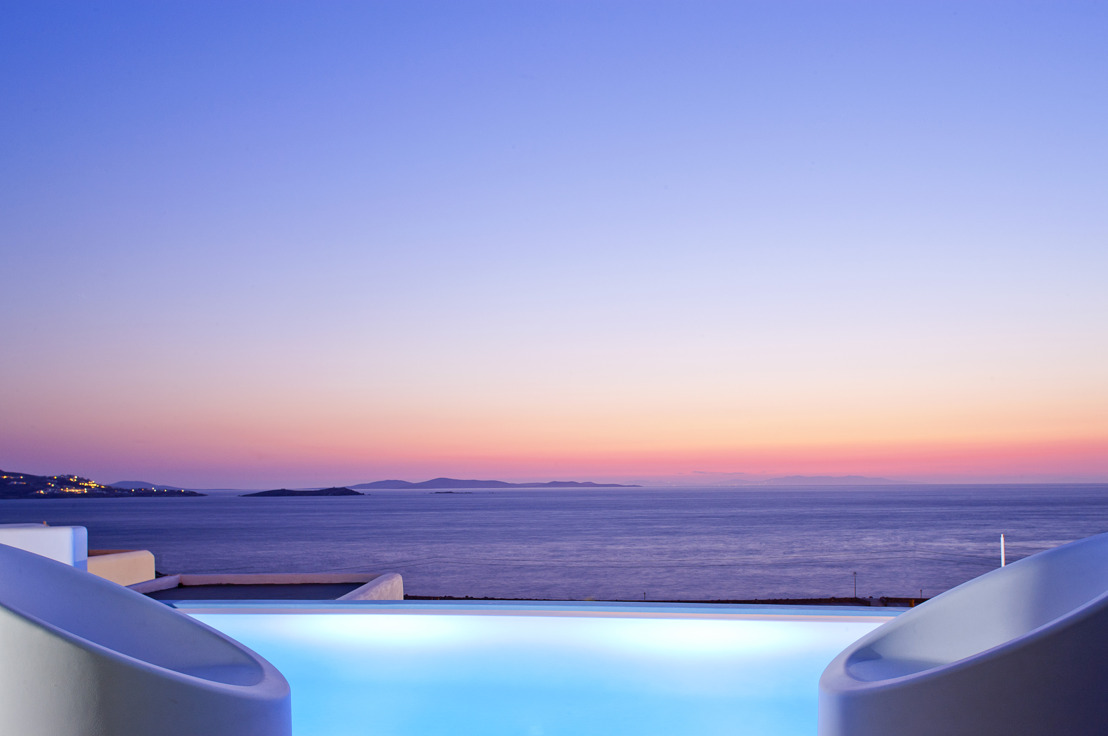 Stay sweet this summer in Kouros Hotel & Suites
The premier luxury boutique hotel overlooking Mykonos Town, Greece
Thursday, 24 January 2019 — Kouros Hotel & Suites invites guests on a journey to enjoy life, welcoming you to the most exceptional 5-star experience within the idyllic setting of Mykonos Island.
The Perfect Location: Kouros is conveniently located in front of the new marina, on the doorstep of Mykonos Town and only 500 m from the beach. The wonderfully relaxing setting shows off spectacular views over the old and new harbours.
In Mykonos Town, visitors are never far from the world-renowned shopping, restaurants and nightlife of the island. The port is just 1 km away. The airport is 7 km away, and free transportation can be arranged upon arrival and departure.
Luxurious Comfort: Completely renovated in 2018 by renowned French designer Fabienne Spahn, Kouros is an impressive complex of stone-built and whitewashed buildings overlooking the Aegean Sea. The posh waterfront property has 40 elegant rooms and suites with unobstructed views throughout.
The bright and airy accommodations are decorated tastefully with modern furniture and artistic detailing, complete with a thoughtful collection of amenities. They come with everything one would expect from a boutique hotel: large living areas, king size beds with super soft mattresses, fluffy pillows and luxurious sheets.
Plus more -- guestrooms leading to designer bathrooms with deep soaking bathtubs, iPod docking stations, free Wi-Fi, flat-screens with premium satellite channels, and tea/coffee making facilities. Suites have private balconies, some with outdoor hot tubs or pools, where guests can watch the famous sunsets of Mykonos Island.
VIP Service: Kouros focuses on VIP treatment of all hotel guests, starting with valet parking, in-room champagne breakfast, 24-hour front desk, 24-hour room service, multilingual staff and express check out. Wake-up calls and an early breakfast can be arranged, as well as secretarial, laundry, babysitting and other special services.
Freshly Designed Facilities: While the Kouros pool is just the place for relaxing in the sun, this luxury hotel also offers a fitness and wellness centre. The Zoe Spa has been designed to give guests a state-of-the-art spa experience during their stay, with the highlight being a complete hydrotherapy area with built-in Jacuzzi and hammam.
Two treatment rooms are available, one for couples and one for singles, where guests can choose from a range of therapies. The bespoke spa menu by organic brand Kos-Paris includes luxury Juliette Armand facials and body massages.
Greek Cuisine with a Modern Twist: Able to seat 30 guests, Narcissus Restaurant serves a dining experience for the most demanding tastes. The signature menu combines traditional Greek dishes with the modern dining scene. Guests can enjoy their lunch or dinner watching the glorious Cyclades sunset and sipping on an excellent selection of fine wines.
For early birds, a homemade, American-style buffet breakfast is available until 11:00 am. The serene setting of the poolside bar is the best place to meet for an afternoon coffee or evening cocktail. Other fantastic places to eat and drink can be found in Mykonos Town or by Tagoo beach.
Weddings & Honeymoons: With personalised service and a beloved location, Kouros is one of the most romantic hotels in Mykonos. The guest relations team can arrange every detail of a dream wedding, from the bridal party to the reception and ceremony. Honeymoon packages and exclusive amenities are available to book.
Learn more at kouroshotelmykonos.gr.
ENDS
For enquiries, email yiannis@prmediaco.com.